Samsung Smart LED 55″ JS8000 4K Smart Series 8
₨162,900.00
Multi-System Compatible
UHD 3840 x 2160 LED Panel
Nano Crystal Color Technology
Motion Refresh Rate 1200 Technology
Description
www.nexgenshop.pk
Nexgenshop.pk brings you the best price for Samsung Smart LED 55″ JS80004K Smart Series 8 with official warranty and express shipping all over Pakistan.
Nano Crystal Color
View an even wider range of brilliant and vibrant colors enhanced to be so lifelike, they stimulate more than just your sight for a total sensory experience that makes everything you watch seem real.
SUHD REMASTERING ENGINE
Through Samsung's unique re-mastering algorithm, the video source of a non-SUHD content is analyzed and remastered so that the content can be displayed as close to what's intended by the content creator.
Peak Illuminator Pro
Peak Illuminator Pro heightens luminosity by boosting the LED backlights in bright areas of the screen. With a PQI 2x that of Peak Illuminator, the peak brightness level is even higher. So when light appears in dark areas, like streetlights illuminating a cityscape, the moment is even more magical.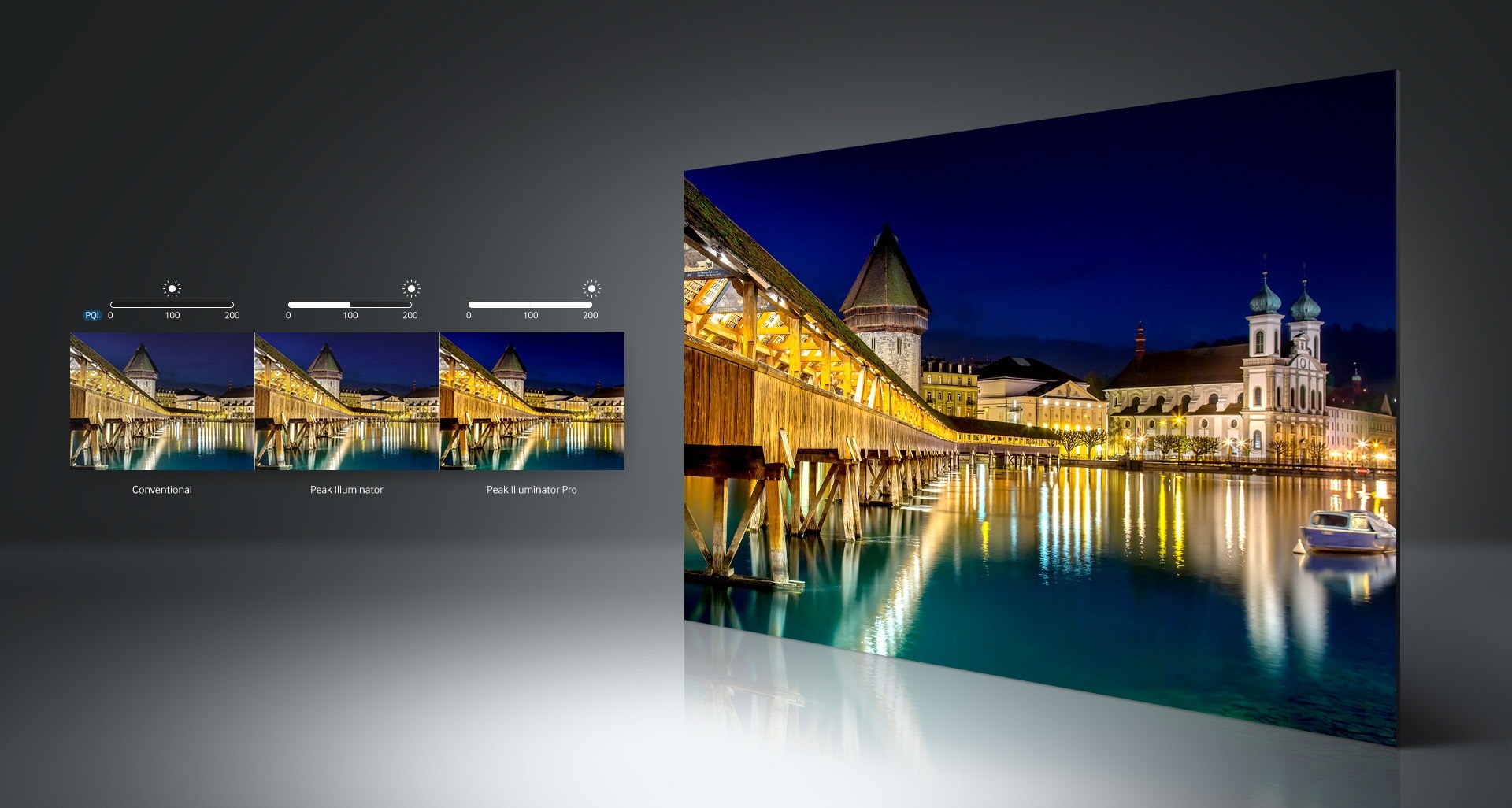 Precision Black
Precision Black technology enhances contrast by optimizing light emission, making everything you see more vivid and dramatic. With a PQI 2x that of conventional Samsung models, you get deeper black and purer white shades with more definition.
Shirring Design
The Samsung JS8000 features an elegant shirring pattern that wraps around the back of the screen, enhancing the graceful minimal look of its sleek and slim metallic body.
Contrast Enhancer
Flat images come to life with Samsung's Contrast Enhancer. Your TV intelligently applies varying levels of contrast enhancement to different areas and objects on the screen creating a dramatic 3D-like effect.
4 times the Full HD resolution
Ultra HD viewing means you can see every intricate detail on the screen clearer than ever. Your Samsung UHD TV offers a resolution four times higher than Full HD, with accurate true-to-life color.
A smarter TV that gets you right to your content instantly
Your gateway to the all-new, smarter TV experience is right at the bottom of the screen, so you never lose sight of your current entertainment. The fun-to-use Smart TV menu bar gives you faster, smoother and truly intuitive access to all the content you love.
Your TV and mobile devices in perfect sync
Samsung Easy Sharing makes it easy to share content between your TV and mobile effortlessly.
*Function compatibility limited to certain television models and mobile devices. Please speak to a sales representative for details.
Get your TV to brief you every morning
Screen image seen here is a representation only. Actual user interface may differ. Your TV will display the last channel viewed. Function compatibility limited to certain television models and mobile devices.
Content that suits your lifestyle
Samsung Smart TVs are designed to give you what you really want and match your lifestyle, with smart apps that make life at home more fun and full of great experiences.
* The TV Application, content and service may vary in different regions.
UHD upscaling enhances the quality of all of your viewing
Creates deeper blacks, purer whites, and enhanced color and detail in every image
Instantly switch back and play right from where you left off
Experience life-enriching apps on your Smart TV
More vibrant colors for better images
Clear Motion Rate minimizes motion blur
Immersive realism with Samsung Full HD 3D technology
Bringing a full multimedia experience into your living room
Watch movies from your USB
Bringing a full multimedia experience into your living room